About Us
IKOffice GmbH is a software developer. We have been developing and implementing business software for over 20 years. The solutions are highly flexible and customisable and are seamlessly integrated into your process landscape, with one thing in particular in mind – how your business works..
Our solutions streamline administration, support the organisation, accelerate processes and optimise production. Powerful planning and control for the tool and mold making.
We know what medium-sized businesses need. You can expect adherence to delivery dates, concrete solutions and full cost control at all times. In complex group environments, we integrate ourselves into the prevailing IT landscape. As an SAP partner, we create trouble-free connections to environment systems..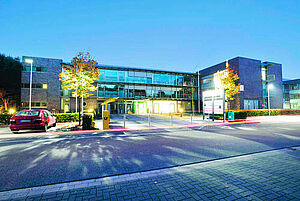 "Companies who uses their resources with pinpoint accuracy have gain more impact and efficiency. This is precisely the focus of IKOffice: state-of-the-art software solutions that are precisely tailored to your operations and your business."

Ingo Kuhlmann, Managing Director IKOffice GmbH
Industry Solutions
Production planning and management
Project planning and management
Streamlined administration
Customer relationship and document management
Quality assurance and improved quality
Only you know how your company works and know the complexity of your processes. At IKOffice, we take into account the specific disciplines of tool and mould making as well as the specifics of your company and incorporate them into the powerful IKOffice software modules. We combine both to a solution that adapts seamlessly to your company.The result is an unbeatably individual solution with the robustness of a proven standard application.
All modules are simple and intuitive to use. Consistent incorporation of the latest ergonomic findings and the creation of intuitive interfaces reduce training time and shorten the introductory phase. IKOffice develops software that makes your business more flexible and intelligent – more efficient and economical.
Business processes
Materials management, merchandise management, enterprise resource planning (ERP)
Production planning and management systems (PPS)
Human resources management (HR)
Supply chain management (SCM)
Comprehensive support of operational processes, workflow management systems (WfM)
Customer relationship management (CRM)
Document management systems (DMS)
We analyse business processes, map them precisely and optimise them – in a single system. This provides structure and an overview of order situations and capacities and covers enquiries to interested parties, customers and suppliers right through to orders and final processing. In short: IKOffice creates the solid process foundation for your day-to-day business. IKOffice relies on customer-oriented sales models. Our services and products are offered at fixed prices. You benefit from low-cost corporate licenses that allow your business to grow unhindered.